Holiday Giving 2023
Seeking Holiday Helpers!

Sign-up to Volunteer ~ K&FT Volunteer Needs withUnited Way Volunteer Ventura County
https://bit.ly/42WmDJw
Help us Prepare and at our Cozy Holiday Gift~Away 2023!
We have prep days starting on Fri, Dec. 1st – Dec. 15th and post event volunteering needed on Dec 19th and 28th.
Our Cozy Holiday Gift~Away event is on Saturday, Dec 16th and we need helpers in the morning for set-up/event and those to help during the event and in the afternoon for breakdown. We will be providing refreshments and lunch in the afternoon. Please wear festive clothes/accessories to help make our event more fun and joyful for those attending. We hope you can join us!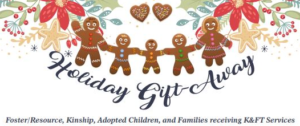 Holiday Gift~Away Donation Drive 2023
Help foster/resource, kinship, adopted, and birth children and their families have a wonderful holiday season!
 Donate toward our 14th Annual Cozy Holiday Gift~Away 2023.
Ways to Donate
Sponsor our event: your logo will be added to our website, marketing materials, displayed at our event.
Collect at your business, school, or community group and drop-off or set-up a pick-up.
Purchase from our Amazon wish-list: https://a.co/eoggBUm
Monetary Donation Give Smart Online Link: https://igfn.us/form/7h20Kg
Text to Donate: loving to 91999
Drop off location:
Kids & Families Together, 864 E. Santa Clara St., Ventura, Mon – Fri 9am – 4:30pm
For Conejo Valley Area, contact 805-940-6323. 
'Tis the Season of Giving!
Would you love to Adopt-A-Family for the Holidays?
We are seeking donors who are (individuals, families, service groups, businesses, churches, etc.) willing to adopt families caring for children who are not able to be at home.
To sponsor a family, click on the form:
https://forms.gle/oW6yE1n4EKkCK8Wa8
Thank you for your contribution and your tax-deductible donation:
Tax ID 31-1678238