Gift~Away Events

Cozy Holiday Gift~Away Event
Registration for this event is sold out.



We have a waitlist and families will be notified of additional holiday resources.
Please contact your K&FT staff member or stay tuned for more information. 
---

Holiday Donation Drive
for our
Cozy Holidy Gift Away Event on
December 12th
in Ventura
This event is for foster/resource, kinship, adoptive and the families we serve at K&FT.
How to Help:
We need your help to make the holiday season cozy and special for children who are in care. Serving 200 children with toys/electronics (0-18-year-olds),
pajamas, plush blankets, games, gift cards, and more! 
We also have an Adopt-A-Family program (see flyer below).

If you would love to adopt a family for the holidays,
please contact Carrie McAuliffe Sandoval 
805-643-1446 ext. 131, cmcauliffe@kidsandfamilies.org.

For more information contact 805-643-1446 ext. 108, jfutvoye@kidsandfamilies.org or
Carrie McAuliffe ext. 131, cmcauliffe@kidsandfamilies.org.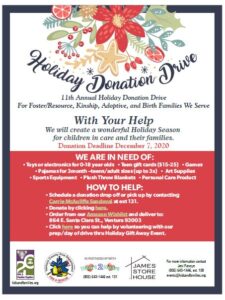 ---

Harvest Fest Gift~Away Event
October 24, 2020, Ventura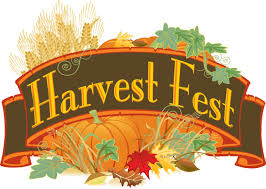 Kids & Families Together (K&FT) and Heart 2 Heart would like to thank our generous sponsors, donors, partners, and volunteers
for their generous support and contributions toward our 11th Annual Harvest Fest Gift Away event!
Special appreciation to Crosspoint Church for hosting the event and making it such a success! The event was also enriched with providing essential needs of a gift card and more from our generous sponsor,  The Gene Haas Foundation!
This year, Harvest Fest was a contactless, drive-thru event set up with several Trunk O' Treat-style booths with various themes to view as families drove through. Despite the current situation, this was a fun family event with music, lots of Fall/Halloween decorations and treats! Many of our volunteers and families dressed up in costume and families decorated their cars for a Harvest/Halloween Parade. It was a fantastic event with over 230 children with 77 families who received gift cards, costumes, pumpkins, candy, essential items, art/craft/science kits and more!
Please click on the link to view our Harvest Fest 2020 Photo Gallery https://photos.app.goo.gl/3zizPEmMgWq4Hnem6.
Thank you to our sponsor, donors and partners:
We are so grateful for your continued partnership and commitment to helping children in care with their families!
 Thank you also to the McKee Family, Keira & Roxanne Danielsen and Newbury Park H.S., Wings to Grow
---