Spring Fling Gift~Away 2022
April 9, 2022
Ventura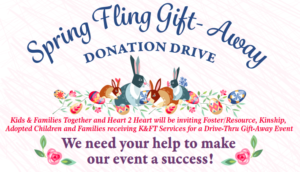 This event is for foster/resource, kinship, adoptive, and birth parents served by Kids & Families Together. During our Spring Fling Gift~Away Drive-Thru event, we will be providing a gift card, Spring basket, toys, teen bags, household items, and more!
~ Donation Drive ~
We need your help!
Donation deadline: Wed, April 6th
Let's make this a great event for the families we serve and the children in their care….Spring is a time for renewal and rejuvenation!
Items Needed:
Easter Baskets • Teen Items/Art Supplies • Outdoor Toys/Games •
Personal Care Products • Cleaning Supplies • Laundry Detergent (free & clear) • Gi­ft Cards
How to donate: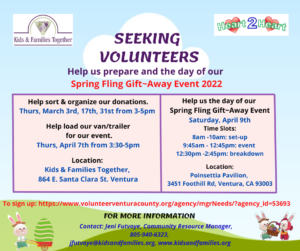 Seeking volunteers to help prepare and/or help the day of our
Spring Fling Gift~Away Event. 
First time volunteering with us? click here: www.kidsandfamilies.org/volunteer
Sign up to volunteer on a scheduled prep day or the day of the event:
https://www.volunteerventuracounty.org/agency/mgrNeeds/?agency_id=53693