Zero Discrimination Day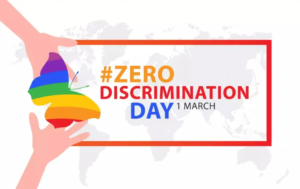 Yesterday, March 1, 2023, was known as Zero Discrimination Day by the United Nations and other international organizations.  It was started in 2013 with the goal to challenge prejudice against people with HIV/AIDS and move toward equality and fair treatment.  The theme was "Save Lives: Decriminalize."  There exist a number of nations that continue to criminalize this vulnerable population and violate human rights.  "In fact, today there are 134 countries explicitly criminalizing or otherwise prosecuting HIV exposure, non-disclosure or transmission; 20 countries criminalize and/or prosecute transgender persons; 153 countries criminalize at least one aspect of sex work; and 67 countries now criminalize consensual same-sex sexual activity, according to UNAIDS. In addition, 48 countries still place restrictions on entry into their territory for people living with HIV, while 53 countries report that they require mandatory HIV testing, for example for marriage certificates or for performing certain professions. 106 countries report requiring parental consent for adolescents to access HIV testing."  To put this into perspective, currently, there are approximately 5.8 million people living with HIV worldwide. 
On Zero Discrimination day 2023, people around the world will come together to raise awareness and act to eliminate discrimination based on race, gender, age, sexual orientation, religion, disability, or any other factor. The day serves as a reminder that everyone deserves to be treated with respect and dignity, and that discrimination only serves to divide us. By promoting tolerance, acceptance, and understanding, we can create a world where everyone is valued and free from discrimination. 
Resources