Current Gift~Away Events



Seeking Donors, Sponsors, and Volunteers
to Help Support our Season of Giving 2022!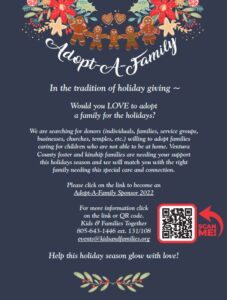 Adopt-A-Family for the holiday season!
Click on the link: Adopt-A-Family Sponsorship Form (google.com)   
We are seeking donors who would love to Adopt-A-Family for this holiday season. We appreciate your giving heart to help children in care have a wonderful holiday with the families who care for them. To become a sponsor, click on the link above.
For more information, contact Carrie McAuliffe Sandoval 805-643-1446 ext. 131, cmcauliffe@kidsandfamilies.org.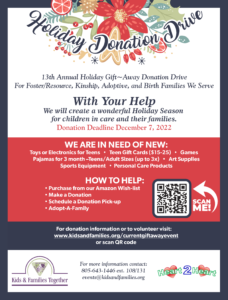 Cozy Holiday Gift~Away Event 2022
Donation Drive                   
*Seeking pajamas 3T to Adult 3x, teen items, and gift cards
While you are doing your holiday shopping/during cyber week….
how about picking up an extra pair of pajamas or something fun for a teen?

How to Donate: Deadline by Friday, Dec 9th 12pm
Text to Donate: "giftaway" (on 41444)
Schedule a donation drop/pick-up:
Jeni Futvoye/Carrie McAuliffe Sandoval
805-643-1446 ext. 108/131, events@kidsandfamilies.org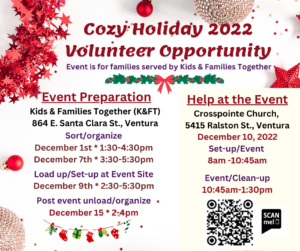 Help us have a wonderful Cozy Holiday Event!
Prep and the day of our Event

New to volunteering with KF&T?
Fill out the volunteer inquiry form then sign up to volunteer with United Way.
Click here
Already a volunteer with KF&T?
Sign up with United Way and then register for our volunteer opportunities.
Click here to sign-up 

For more information contact:
Jeni Futvoye, Community Resource Manager
805-643-1446 ext. 108, jfutvoye@kidsandfamilies.org
Carrie McAuliffe Sandoval, Heart 2 Heart Co-Founder/Manager
805-643-1446 ext. 131, cmcauliffe@kidsandfamilies.org