---
Trainers: Carrie McAuliffe Sandoval & Wendy Homan
If you have gotten your license to be a Resource Parent within the last couple of years, this class is for you!
Long-time FKCE trainer Carrie McAuliffe Sandoval and long-time Foster, turned Resource Parent, Wendy Homan, designed this series for our "newer" families.
Real-life scenarios will be used each week as case studies!
The 4-week class will explore:
Building Your Support System (family & friends, professional contacts, when to reach out)
Creating Responsible Resource Families (rights & responsibilities, acronyms, record- keeping)
Welcoming a Child/Sibling Group into your Home (the "First Day", communication, positive discipline, resiliency)
Transitions (children arriving & departing, grief & loss, birth parent interaction)
*Participants will receive a certificate for 12 hours of training upon completion of the series.
RSVP: To Leticia at leticia_sandoval1@vcccd.edu (Please put Nuts and Bolts in the Subject Line and indicate if you are a foster/resource parent/kinship provider in your RSVP).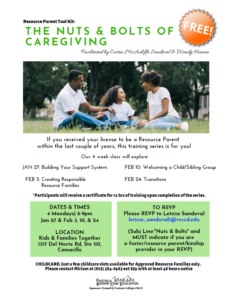 Please click image to expand