---
Trainer: Dr. Judy Sullivan Osterhage
An Early Childhood Specialist with a degree in Elementary education, Dr. Judy Sullivan Osterhage has worked with the Santa Barbara City College Foster and Kinship Care Education program for over 20 years.
Judy's research is on early trauma effects on brain development and behavior. She is a Parent Coach Consultant with Parenting Matters Consulting and is a certified Love & Logic Instructor.
Love and Logic dedicated to making parenting and teaching fun and rewarding, instead of stressful and chaotic. We provide practical tools and techniques that help adults achieve respectful, healthy relationships with their children
The 4-week class will cover:
Steps to having kids take responsibility, Parenting with Empathy, Consequences
Sharing Control with Choice, Parenting Styles, Ownership of the problem
Setting Limits, Teaching kids to listen the first time, Family Meetings
Sibling Rivalry, Chores and Allowance, Strategic plans for chronic behaviors
*Participants will receive a certificate for 8 hours of training upon completion of the series.
RSVP: To Leticia at leticia_sandoval1@vcccd.edu (Please put Love and Logic in the Subject Line and indicate if you are a foster/resource parent/kinship provider in your RSVP).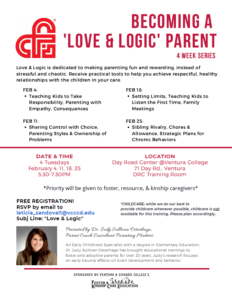 Please click image to expand