Quién debe asistir: Cuidadores de crianza, adoptivos y familiares
Descripción: Apoyo y capacitación, dirigido por un terapeuta, en un ambiente seguro y de apoyo donde los participantes pueden compartir sus experiencias como padres adoptivos o de crianza. Los participantes tienen la oportunidad de explorar sus propias historias de apego y fortalecer sus habilidades terapéuticas de crianza. Aprenda sobre el apego, el trauma, el desarrollo, el autocuidado y más. ¡Los padres de recursos pueden ganar horas de entrenamiento!
Contacto: Contacte a Rosa; 805-643-1446, ext. 115 * No se requiere asistencia cada semana, pero se les pide que por favor llamen y confirmen su asistencia si planean asistir
*¡Obtenga horas de entrenamiento!
---
Who Should Attend: Foster/resource/adoptive/kinship resource caregivers
Description: Support and training, led by a therapist, in a safe and supportive environment where participants can share their experiences as a foster or adopted parent. Participants have a chance to explore their own attachment histories and strengthen their therapeutic parenting skills. Learn about attachment, trauma, development, self-care, and more. Resource parents can earn training hours!
Contact: Please contact us at 805-643-1446 Ext. 133 for the latest information and to register.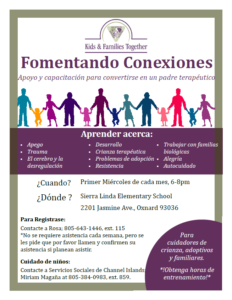 Por favor, haga clic en la imagen para ampliar/Please click image to expand