---
Who Should Attend: Foster/resource/adoptive/kinship families; general public
Description: One Friday evening for parents only and the following full day with parents and their teens, led by two therapists. Families will deepen their connection, enhance trust and emotional safety, change frustrating cycles, and better understand each other. On the second day, families will have time all together as a group, time alone with their teen, as well as a parent support group and teen support group during the day. Resource parents can earn training hours!
When: February 7-8, April 24-25, July 19-20, & Oct. 4-5
Friday (parents only) 6pm-9pm
Saturday (parents & teens) 9am-2pm
Contact: Please contact us at 805-643-1446 Ext. 106 for the latest information and to register.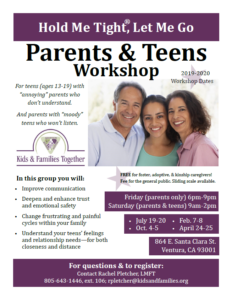 Please click image to expand