When a child in foster care does not have a viable adult in their life to support, advocate, and remove barriers to his or her education, the court must appoint a responsible adult to carry out these duties. Ventura County has a need for volunteers who are willing to be assigned education rights for one or more children in foster care.
Who should attend: Foster parents, mentors, and other committed volunters who would like to help a child in foster care navigate the education system, need training hours, or just want to learn more about becoming an "Education Rights Holder".
RSVP: https://bit.ly/2Tc0Wob
For more information: Please contact Laura Welbourn, (805) 437-1525, lwelbourn@vcoe.org.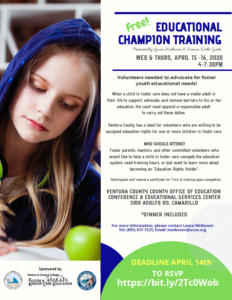 Please click image to expand